Are you looking for the best Avon products for 2023? Discover the top 16 Avon best sellers in makeup, skincare, and bath products.
Are Avon products of good quality?
Is Avon a good brand?
Although Avon is one of the oldest beauty direct sales companies, you may not know what the best Avon products are.
Women trust the Avon brand name and have purchased their skincare and makeup products since 1886. When is the last time you viewed an Avon brochure?
Let me write a quick review of Avon's top best-selling products in 2023.
16 Avon Top Best Sellers
Check out the most popular products that made my best Avon products list for 2023.
Which of these products will you be using? If you have a product review, please leave it in the comments. I'd love to hear from you.
fmg Avon Glimmer Liners
Cashmere Essence Lip Cream
Cashmere Complexion Longwear Foundation
fmg Colors of Love Cushion Makeup
Anew Ultimate Multi-Performance Day Cream
Avon Anew Ultimate Night Cream
Anew Vitamin C Brightening Serum
Isa Knox Anew Clinical Revitalize and Reveal Advanced Wrinkle Corrector
Anew Clinical Collagen Booster Eye Lift Pro
Skin So Soft Original Bath Oil
Moisture Therapy
Avon Senses Bubble Bath
Bug Guard Plus IR Expedition Pump Spray
Far Away Perfume'
Haiku Intense Perfume
Wild Country Cologne
What are the Best Avon Products 2023?
Here's a preview of what you can expect from the Avon best sellers list in 2023. If skincare, makeup, and body care products are your thing then you're in luck because this is one of the most comprehensive lists.
Tell me in the comments which of these Avon best sellers you use in your daily routine.
---
1. Avon Glimmersticks Eyeliners, Brow Liners, and Lip Liners
Glimmersticks are one of Avon's best sellers. Every minute more than four Glimmersticks Eyeliners are sold in the United States.
With these eyeliners, you can define your eyes with perfect precision and smooth, glide-on, intensified color shades that will last for many hours.
For ease and convenience, this product is retractable and available in waterproof formulas. Super easy to use!
Avon Glimmersticks Eyeliner Reviews
With our many happy customers, you know you're getting the best! Check out their raving Glimmerstick eyeliner reviews.
"This is the only eyeliner I will ever use. I have been using these eyeliners for the past 15 years and will not change them for another competitor that only irritates my eyes. You can use this eyeliner with confidence and is long-lasting. Love the bold color that helps bring out my eyes. I am always getting compliments. I highly recommend this product."
"This product is spectacular. It goes on so smooth, stays In place all day, and very creamy. Wonderful pigmentation as well. I definitely plan on buying it again."
2. Cashmere Essence Lip Cream
Looking for anti-aging lipstick? Avon's Cashmere Essence Lip Cream is the only lipstick in the US with a bio-retinol core. This formula combines color and lip care for anti-aging benefits.
Pamper your pout with this indulgent lip cream, featuring a melting balm-like texture that glides on effortlessly, wrapping lips in delicious color while also providing care.
Avon Cashmere Essence Lipcream Reviews
See the 10 gorgeous shades and reviews to see why customers love the Cashmere Essense Lip Cream.
"I discovered this Lip Cream when it was first introduced by Avon and now it is all I use! I love how moisturized my lips feel when I use it and the shades are so pretty…but we could use more of them, please! I recently misplaced one of the shades and was lost without it until I could replace it…it's that great!"
"I've been around a long time, and have never ever experienced lipstick like this. To call it smooth is an understatement . Actually, I don't know how to describe what it feels like when you apply it. Better than silk! Color is perfect and long lasting."
3. Cashmere 24 Hour Foundation
Get skin that feels as good as it looks. This liquid foundation is high on our list of Avon's best products and it's available in 30 different matte shades to suit a wide spectrum of skin tones and undertones, making it perfect for you. It will make your pores and lines virtually invisible too.
Enjoy 24 hours of comfortable breathable foundation wear with Cashmere 24 Hour Foundation.
fmg Cashmere 24 Hour Foundation Reviews
"Very impressed with this foundation. At first I thought it was way too light for me but once applied it blends beautifully and really does look so light and natural. I use Avon Rosy Primer and that really helps to make this blend nicely. Great product."
"Oh I am in love with this foundation!! I have been looking for years for light coverage of rosacea and I finally found it!!"
4. fmg Colors of Love Kiss Me Cushion Blush
Our blushing cushion blush will give your skin the perfect, healthy-looking glow. With hyaluronic acid, water lily extract, and green tea extract this product not only caters to your complexion needs but also provides it with antioxidants for optimum health.
Give skin something to blush about with Avon Cushion Blush.
fmg Colors of Love Kiss Me Cushion Blush Reviews
"I love this product. Not drying,goes on smoothly,blends well."
"ABSOLUTELY LOVE THIS CUSHION BLUSH!!! If using this product correctly, this will last you a very long time! I've had mine for quite a while & I use every day. First, remember, when applying, you "pat, pat, pat" onto cheeks to get desired shade depth. MAKE SURE TO SNAP INNER COVER SHUT, so it doesn't dry out! Also, store cushion on top of inner case, as when you received it. It is not designed to be stored set on top of actual product (lid won't snap shut, if you do this.) When you aren't getting enough color, just FLIP SOAKED PAD with product, using tweezers, and Viola! It's ready to use, again! I've flipped mine about 4 time and it's still going strong! Again, make sure to snap inner lid shut! For those that said it didn't last for more than 2 weeks or so, probably weren't using it correctly. I love this & will continue to use. Absolutely BEAUTIFUL! I use shade Queen Carnation."
5. Anew Ultimate Day Cream
This daily moisturizer will help you fight the symptoms of aging. These symptoms may be wrinkles, decreased firmness, or even skin that has lost its color.
Read about other best Avon Skin Care Products that are perfect for your age. Choosing the right anti-aging skincare regimen can be started at any age but, of course, is best if you begin in your 20's.
Avon Anew Ultimate Day Cream Reviews
"I love this cream, I have been using it every morning for about 10 yrs. It's light, my make-up goes on over it with ease or I go clean faced it doesn't leave my face feeling greasy. A little bit goes a long way too!"
"Have been using this product for years – can't find any other moisturizer that I love as much as this one. Love that it has the spf 25."
6. Avon Anew Ultimate Night Cream
Moisturize while you sleep with Avon's top-selling night cream. Looking to combat multiple signs of aging? Anew Ultimate night cream works as an anti-aging moisturizer that will give you back your youthful skin.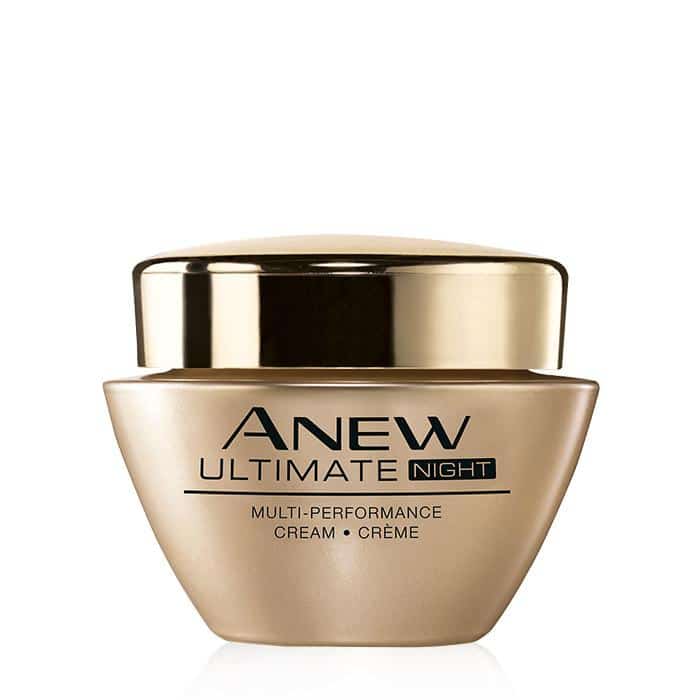 Anew Ultimate Night Cream Reviews
"For too many years to count I have relied on Anew night cream. It sports and smooths my face during the night, and has accounted for many saying "you don't look 76!""
"I use the Anew Ultimate Multi-Performance Night Cream on the evenings before I go to bed. It works very well and I started using this product over this past year. I do have dry skin so it is great to use during the winter months and also year-round. I also just purchased another Anew Ultimate Multi-Performance Night Cream to stock up on as it was on a good sale."
7. Anew Vitamin C Brightening Serum
This super serum illuminates your dull, tired skin to look visibly energized.
This vitamin C serum provides a lot of power because it has as much vitamin C as the average person needs in a day. We recommend it to any customer looking for naturally radiant skin.
Avon Vitamin C Serum Reviews
See why customers keep buying this Avon best product, Anew Vitamin C Serum.
"I use this product morning and night after cleansing/exfoliating. I mix it with Anew Power Serum and my skin feels wonderful afterward. In just a couple of weeks, my skin is softer and smoother."
"I use this product twice a day, in the morning and before bedtime. After a couple of weeks I noticed a dramatic difference in the way my skin looked. It was visibly brighter and just looked healthier all around. I am purchasing my 3rd bottle today. I've recently begun using it on the dark spots of my legs."
8. Isa Knox Anew Clinical Revitalize & Reveal Advanced Wrinkle Corrector
Getting rid of wrinkles or plumping your skin used to be a tough decision. But not anymore, because now you can have the best of both worlds!
Get younger-looking skin with the help of this facial cream's plumping formula with AHA – Alpha hydroxy acids.
Anew Clinical Revitalize and Reveal Advanced Wrinkle Cream Reviews
"I love this product! My face is so smooth and youthful looking. It really takes care of deep lines in your face. I would highly recommend this product to everyone."
"I've been using this product for years. It goes on smooth and absorbs quickly. I have very few wrinkles. I'm 53 years old and people think I'm much younger!"
9. Anew Clinical Eye Lift Pro
Want to reduce the appearance of crow's feet and the look of eyelid sagging?
Isa Knox Anew Clinical Collagen Booster Eye Lift Pro Dual Eye System is the only two-in-one system for a complete eye lift and to treat signs of aging.
Give your eyes a dramatic lift and virtually erase the signs of aging on your eyes with the Avon Eye Lift Pro.
Isa Knox Anew Clinical Eye Lift Pro Dual Reviews
"I love this product! I really notice a difference. It goes on smooth and softens the fine lines under my eyes. When there is some left on my finger after applying, I always rub it all around my lip line. Very happy with this product."
"This product really makes eyes look better, it gives it this alive look and less visible to the wrinkles around it . the lift is amazing love it."
10. Skin So Soft Original Bath Oil
Who remembers Skin So Soft? This luxury bath oil has been around since 1961. This is Avon's most iconic brand!
Infused with jojoba oil, Skin So Soft bath oil will moisturize your skin during bathtime. Buy American's #1 bath oil and you will find out why customers give it a 4.9-star rating. It will become your favorite bath oil too!
Avon Skin So Soft Reviews
"Especially during the dry cool weather and hot summer weather, I use a little cap of this beautiful oil in my bath. When I get out, my skin is soft and smells amazing. I also have the spray bottle for when I get out of the shower. It keeps my skin from looking crepey or ashy."
"I use this as an after every shower application. I apply by hand to my entire body before drying off. Since this product is quickly absorbed into my skin, towel drying doesn't remove the product. I've also used this product when I've run out of shaving cream and have been very pleased with the results. I have used this product for years and will continue to use it for years to come."
11. Avon Moisture Therapy
Moisture Therapy formulas provide immediate relief and moisturize for hours. They're free of greasy residue and can be used on many different types of skin, so the whole family can enjoy them
Which Moisture Therapy product is your favorite?
Avon Moisture Therapy Reviews
"Been using this for 30 years and my son-in-law loves it too. Smoothes without feeling greasy all day, works great if you have hands that crack in the cold…no more cracks!"
"This product is amazing. I had it many years ago when the packaging was different (that's how long ago) and when I ran out I didn't know until recently that I could easily get more online. Such a great purchase. I already have soft hands in winter (cause I love lotion) but this has made my hands much softer. It is my favorite lotion. I definitely going to be buying more and giving it as gifts this year. Highly recommend this product! Get it, you won't be disappointed!"
12. Avon Bubble Bath
Lavishly pamper your body with our luxurious bubble bath. And the best bubbles are the #1-selling Avon Senses Lavender Garden Bubble Bath.
Relax with the scents of lavender & chamomile, which are proven to have calming effects. Along with its soothing bubbles, this relaxing bath lasts for a long period of time and helps you forget all your worries.
Treat your senses to an aromatic, naturally-derived calming experience with Avon Bubble Bath.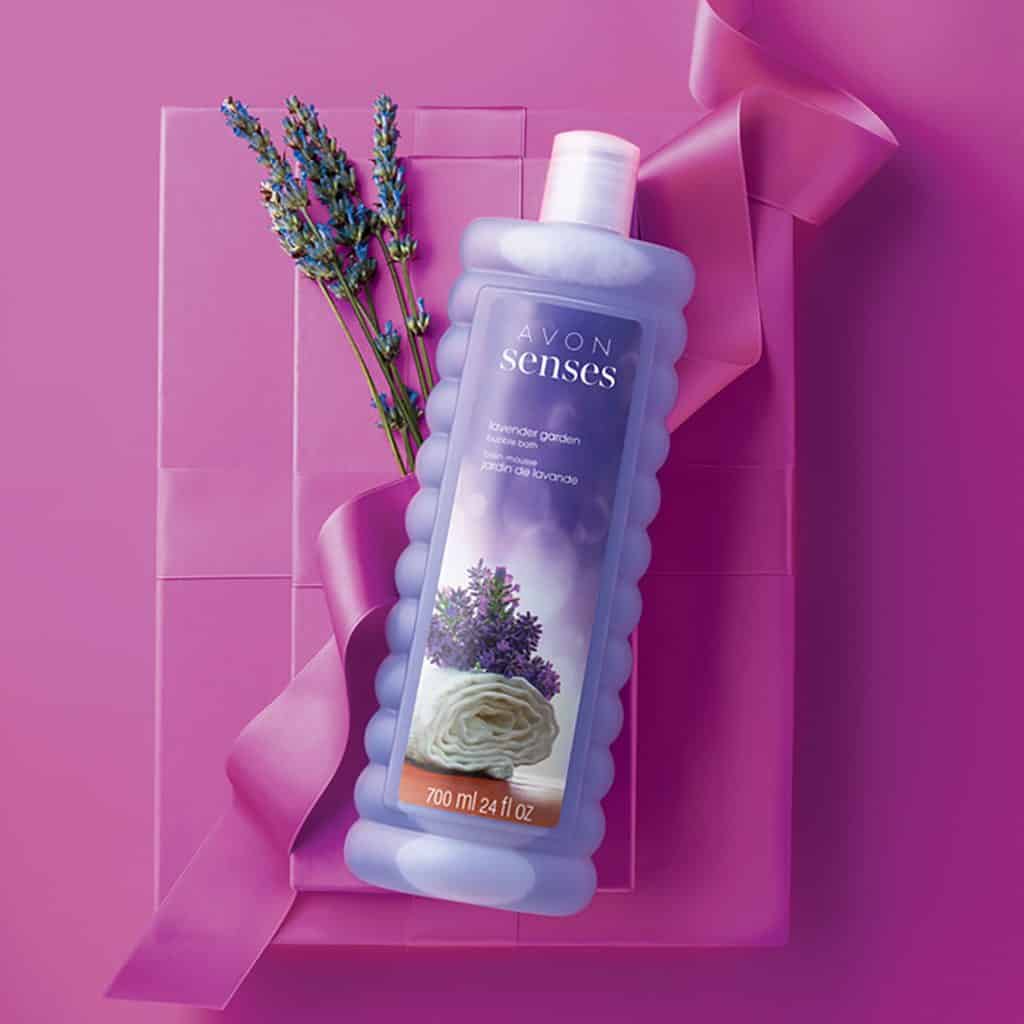 Bubble Bath Reviews
'I've been using Avon bubble bath for ten years and love the product and pricing. Sales prices are offered frequently plus free shipping if you spend the minimum amount.'
"I love the bottles of the bubble baths that I purchased they're soft scents and sensual, very relaxing. I love them."
13. Bug Guard Plus IR3535 Expedition Family Size Pump Spray SPF30
The best-selling Avon bug repellent is the Expedition pump spray. This product gives you both protection from insects and the sun.
It is known for repelling deer ticks that may carry and transmit Lyme Disease. A deet-free insect repellent that moms buy for their family. Don't be left without the Bug Guard Expedition this summer!
Avon Bug Guard Pump Spray Reviews
"I love this pump spray. I like that it does not contain DEET. I've used AVON SSS bath oil to keep mosquitos away but this is better and not oily."
"Have used these products for years — I personally think they are far superior than the other insect repellants that are on the market. They don't have an awful smell and they work much better."
14. Far Away Perfume – Best Avon Perfume for Her
Avon's #1 fragrance is the original Far Away Eau de Parfum. The blend includes warm spices and other notes to transport you to an exotic place.
Avon Far Away Perfume Reviews
"I love this perfume. It's delicate enough to wear day or night."
"I have used this product for many years — it is my everyday item. I love the smell and have gotten many compliments on it. I never leave the house without a few sprays on me. Try it and you will love it."
15. Avon Haiku Intense Perfume
Haiku perfume is Avon's #1 fragrance brand. Twenty years after its launch, the Haiku Intense collection was made.
Experience Tranquility! Haiku Intense creates a sense of harmony with calming and clean notes. An airy floral scent evoking the serenity of a beautiful garden oasis, blooming with Japanese Yuzu, delicate Muguet, and blonde Woods.
Haiku Intense Reviews
"Wonderful scent. Great for those who like a subtle scent. One of my signature fragrances, since it began, is Haiku. I got this new intense version and love it! It takes much less to get a good strong long-lasting scent! Smells exactly like the original."
"I have liked the non-intense version, Haiku Eau de Parfum, for its freshness and simplicity, but this new Haiku Intense Eau de Parfum is now beloved as well. Its stronger scent took me a few days to adjust to, but now I love it. An Avon staff "favorites" contribution praised it for its serenity and peacefulness, and I agree. I never particularly thought I was a floral type until my husband noticed and complimented the Haiku fragrance. I enjoy wearing it."
16. Wild Country Cologne – Best Avon Perfume for Him
The last of the best Avon products on my list for 2023 is a favorite Avon men's cologne. It's no surprise that in 2020 we sold 14 bottles of this crowd favorite every hour.
Wild Country Cologne has been a men's favorite since 1967. Made in a rugged, aromatic blend with fresh notes that capture the untamed spirit of a confident style.
So if you need to take a break from your confident style, then splash it on with Avon's best-selling men's cologne, Wild Country.
---
FAQ about Avon Products Online
What is Avon's most popular product?
There's a reason why the iconic Skin So Soft brand is the #1 best-selling Avon product – because it has left millions with touchably soft skin.
Is Avon High Quality?
Avon products have an overall rating of 4.5 or higher with the majority being 4-5 stars. Skin So Soft, Avon's best-selling product, has a rating of 4.9 and over 1200 reviews. Anew Ultimate Skincare ranks at 4.7 with over 1500 reviews
Is Avon owned by China?
In 2019 Avon USA was purchased by a major South Korean consumer goods company, LG Household & Health Care.
Are Avon Products Natural?
Avon's Farm RX is a vegan skincare line made with healthy, natural plant-based ingredients. This skincare collection is 85% organic!
Can you still get Avon Products?
Avon is an iconic brand that has been around for more than 135 years. Today Avon products can be bought through a local "Avon Representative" or conveniently from an Avon Rep's online store.
How do I Buy Avon Products Online?
---
How to Get Free Shipping on your Avon Order
I encourage you to take advantage of our free shipping offer. Place your online order of $60 or more and I, personally, will pay for your shipping charge.
As an Avon representative, I appreciate each and every customer.
Happy shopping for the best Avon products in 2023!
What's your best Avon product in 2023? Leave your comment below. I would love to add your product to this list.
How to Buy Avon Products Online
View our latest Avon online brochure for your favorite cosmetics, skincare, jewelry, and perfumes. Discover the latest in beauty & fashion with this year's most iconic looks. Find the top Avon products.
Enjoy free shipping on orders $60 or more. PLUS you will get an Avon free gift with your purchase just for shopping with Avon Rep, Mary Bertsch.
Find the current Avon free shipping codes to save you even more money.
How to Join Avon and Earn Extra Money
If you want to earn extra money or work from home, selling Avon may be for you. You can create your side hustle, become an Avon representative online, and make some extra cash.
Selling beauty products online is another avenue to generate income through blogging or being a beauty influencer on Instagram.
You can take advantage of the freedom and flexibility of working from home by starting a side hustle. Why not learn more about becoming an Avon representative if you want to make part-time money?