Looking to buy Avon Haiku Kyoto Flower Eau de Parfum spray at the best price?
Tired of trying to find an Avon representative in your area?
I'm here to help you! You'll be surprised at how easy it is to get the lowest price on your Avon perfumes. What's more, is you can have it delivered right to your home in a few days.
What does Avon Haiku Kyoto Flower Smell Like?
Supporting your Zen-inspired self from day to night, the refreshing notes of Haiku Kyoto will leave you feeling relaxed and invigorated.
The delicate, romantic, and refreshing scent of this gorgeous flower is a good choice for those seeking to soften an intense and/or heavy perfume. With its fresh and clean aroma, it can tame your body and mind.
Breathe in the amazing aromas of this fresh floral scent. Enjoy velvety, elegant, or pure notes.
This Haiku perfume is a must-have for your fragrance collection.
You'll be glad you bought it as soon as you smell it!
What are Haiku Kyoto Flower Eau de Parfum Spray Notes?
Every perfume has its own unique scent, made up of 3-5 notes which are the core ingredients in the fragrance.
Violet leaf, white peony, and soft cotton musk are the three main notes of Haiku Kyoto fragrance by Avon.
Top Note: Violet Leaf
Middle Note: White Peony
Bottom Note: Soft Cotton Musk
What are the Avon Fragrance Categories?
The different types of scents that make up a fragrance are separated into fragrance categories.
The top 6 fragrance scent categories consist of:
Fresh and Sweet
Fresh and Vibrant
Fresh and Clean
Warm and Dreamy
Warm and Indulgent
Warm and Exotic
The Haiku Flower Eau de Parfum is in the fresh and clean category.
Other fresh and clean perfumes are:
What are the Reviews of Avon Haiku Kyoto Flower Perfume Spray?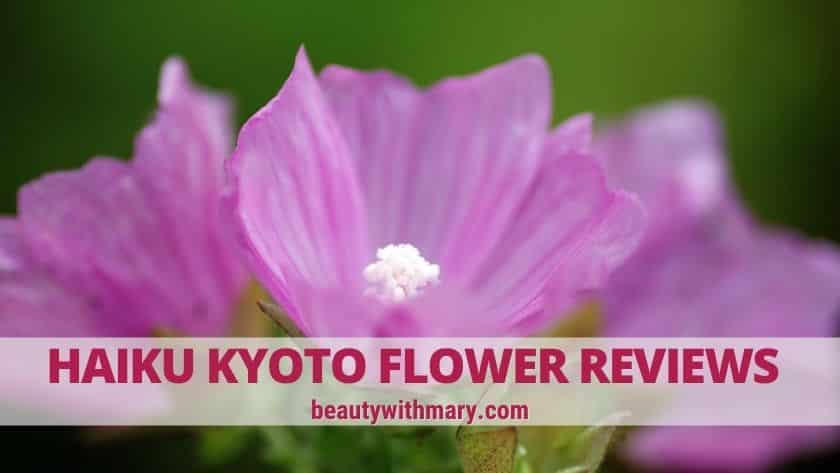 Wondering what customers believe the most popular Avon perfume is?
Read the reviews before you buy. See the customer product ratings of this tranquil garden of pure bliss.
It matches well with the seasonal changes…cool days make it smell fresh & clean…warmer days make it smell floral & "blossom-like".
Have used this for years and continue to get compliments each time I wear it.
I use my perfume every day! It has become my favorite smell. And after showers, I use the lotion.
I love this perfume so so much it has such a beautiful scent for the spring and summer.
Which Avon Perfumes Last the Longest?
Looking for scents that last longer?
Good news! Now get a longer wear time of our new Haiku Intense fragrances for women. With the new formulas, potent precious ingredients have been added.
Check out the Haiku Kyoto Flower Intense perfume for a more long-lasting smell.
There are so many wonderful choices in the Avon Haiku perfume collection.
Haiku by Avon Women's Fragrances for Sale
Let me tell you about these added scents.
Which Haiku Perfume is Right for You?
Avon Haiku Reflection Perfume – The Japanese-style scent of Eau de parfum spray with fresh and clean floral scents. Read Avon Haiku Reflection perfume review. Learn what customer's like about this product.
Avon Haiku Kyoto Flower – A taste and fragrance of sweet floral white peony. Before you buy check out the Avon Haiku Kyoto Flower perfume review.
Haiku Intense Perfume – This light floral-scented fragrance lasts for hours.
Haiku Sacred Intense – Experience this fragrance with a refreshing blend of tangerine, roses, and driftwood.
Haiku Kyoto Flower Intense – Strong fragrance scent of violets, white peonies, and pure cotton musk
Where Can You Buy Avon Haiku Perfume Spray?
You can easily purchase these fragrances online or from your local Avon lady. To get the best price online shop from an Avon representative's store.
If you don't have a sales rep near you, I would love to be your Avon representative.
I'm Mary Bertsch, an experienced Avon saleswoman who has been with the company for more than 13 years. I can relate to you if you have been using Avon products in your daily routine for years.
I'm hoping to get to know you better and help you find the best Avon skincare and makeup to help you look and feel beautiful.
How to Buy Avon Products Online
View our latest Avon online brochure for your favorite cosmetics, skincare, jewelry, and perfumes. Discover the latest in beauty & fashion with this year's most iconic looks. Find the top Avon products.
Enjoy free shipping on orders $60 or more. PLUS you will get an Avon free gift with your purchase just for shopping with Avon Rep, Mary Bertsch.
Find the current Avon free shipping codes to save you even more money.
How to Join Avon and Earn Extra Money
If you want to earn extra money or work from home, selling Avon may be for you. You can create your side hustle, become an Avon representative online, and make some extra cash.
Selling beauty products online is another avenue to generate income through blogging or being a beauty influencer on Instagram.
You can take advantage of the freedom and flexibility of working from home by starting a side hustle. Why not learn more about becoming an Avon representative if you want to make part-time money?